Testimonials - Straight from the hunters!
I had the greatest hunting experience of my life with Elk Creek Family Outfitters. The accommodations were very nice with all the comforts of home in their refurbished cabin. From the cabin you could see for miles overlooking some of the best looking elk and deer country imaginable. And after the morning and evening hunts the Heins put out a spread of food that is second to none and made us feel like family.
As for the hunting all I can say is AWESOME! Abe and Dave know how to put you on elk and both live and breathe this stuff. And the elk they put us on were incredible animals. Looking back on my notes of the hunt there were ten bulls called in, fortunately two of which offered shots for both my brother-in-law and myself. My brother-in-law arrowed a real nice 6x7 bull opening morning and I was successful three days later with a beautiful 7x7.
If you have any questions about Elk Creek Family Outfitters feel free to give me a call.
Rob Holtz
Reisterstown, Maryland
(410) 526-2927
September, 2007
I have just returned from bow hunting elk on the 5-E ranch in north central Montana; a hunt of a lifetime seems appropriate to say without hesitation. This area is remote enough to hold a large herd of elk and it does and it is also surrounded by miles of private property. I shot my bull a 6x7 on the first day and my friend connected on day four with a 7x7 after having about 8-10 close encounters with some real slammers.
It is difficult to put into words the great time we had with good, friendly, knowledgeable people who love to hunt as much as I do. We hunted deep coulees, mountain meadows and stock ponds. Dave and Abe (father and son) were our hosts, both are bow hunters who call, rattle and know how to get em comin' (sometimes on the run).
Give me a call if you need or want more info.
Tom Ogorzalek
Manahawkin, N.J.
(609) 660-1542
September, 2007
Wow, what an experience! Not only did I get to enjoy the beauty of Montana with my son and my hunting buddy, but the Hein's make you feel like your one of the family. Each night as we feasted on home made dinners, we discussed the days hunts like old friends and strategized for the next day. I love to elk hunt more than any other hunt, but it's that much sweeter when the guides are as crazy about calling and chasing elk as you are. Dave and Abe are relentless, and never give up. As a result I was able to harvest a beautiful 6 by 6 bull. The memories are as vivid today as they were two months ago while I was still hunting on the ranch.
Thanks again Hein family!

Greg Harr
Anchorage, Alaska
(907) 332-4277
October, 2006
I have been fortunate enough to be a guest with Elk Creek Family Outfitters for the past 3 seasons. I have hunted hard the back country of Montana for 14 years and have never had the opportunity on bulls like I have hunting on the 5E Ranch. The bulls are very callable and Abe and Dave have become experts at calling them in. I had many shot opportunities and was able to harvest 2 smaller 6 points in these past years. The ranch holds some true trophies, 340 plus herd bulls have been common each year with a couple that I can only imagine what they might have scored. In the morning just before light you would step out on the deck to hear sometimes 8-10 different bulls bugling. I would recommend this hunt to anyone searching for either a first time bull or a chance at a true Montana trophy.
Give me a call if you want any more information about my experience with Elk Creek Family Outfitters.

Bart May
Bozeman, Montana
(406) 586-8664
January, 2005
For more information please contact:
Elk Creek Family Outfitters
c/o Dave & Abe Hein
1021 Toole Circle
Billings, Montana 59105
(406) 670-4366
(406) 794-2204
In 2008 an guest named Philip Neese penned and published an article about his experiences hunting on the 5E Ranch. His article appeared in the Saturday, October 18th, 2008 issue of the "News Hopper" in Aitkin, Minnesota
"I enjoyed a guided hunt on the 5E ranch and found the accommodations to be first class. We stayed in a log cabin that had been built in 1915 and was renovated in 2000. It was decorated in a western style with a modern kitchen and bathroom. Our home-cooked meals were prepared and served in the spacious ranch house.
We hunted in such places on the ranch as Hidden Valley, Bull Meadow, Coulter Spring and Kohn's Coulee. Elk and deer were unbelievably numerous. However, I want to share my hunt at Abe's spring in Norman's Coulee..."
I had an absolutely great bow hunt this September with Elk Creek Family Outfitters. We hunted aggressively with decoys and calls, and I love this style of hunting. I took a beautiful 330 bull elk while he was bugling and angling back to water.
Despite a forward shot with a Rage 2 blade, we trailed the bull 3 miles and completed the mission. The tracking job by Abe & Dave was truly unbelievable--over dried grass fields with microscopic blood drops every 3 yards at best.
My wife had a great time too. She enjoyed the food, company, and especially the accommodations at a beautiful cabin nestled in the ponderosa pines. Can't wait to get back if I can draw.
Joe Herold
Bronte, Texas
(323) 786-4666
September, 2009
"It's a Honeyhole!!" That is how I describe the elk hunting at Elk Creek Family Outfitters. With herd bulls in the 350- 370 range and satellite bulls that include many in the 320-330 range, combined with the knowledge of elk, calling and decoy setup, Dave and Abe will provide you with the experience of a lifetime. I was able to harvest a great 6x6 (338) bull this fall and have many great memories from my time spent with the Heins. I passed up several shot opportunities at elk before closing the deal on this bull. I have hunted various places in Montana for elk and I know that you have as great a chance to harvest a monster bull on the 5E as anywhere in Montana!!!! Don't hesitate about taking the opportunity to hunt central Montana with your bow in some beautiful country with some of the greatest people in the world.
Give me a call if you have any questions about my experience with Elk Creek Family Outfitters.
Scott R. Smith
Colstrip, Montana
(406) 740-0937
September 2009
Dave
I can't tell you how much I enjoyed our elk hunt together on November 19 2014. I have never had a person take as much time and care as you did for me. I have had my left leg amputated below and have some trouble with my balance and ability to walk a long distance. We left the house at 6:25 a,m, and could hear the elk bugling and the cows chirping. We walked about a half mile with Dave at my side stopping to rest as needed.
We finally got into position where I had a good shooting lane and a solid rest. The moon was out, the sun just coming up to give us a beautiful sunrise with the elk still grazing in front of us. Dave looked at me and winked and said this is not your first rodeo so shoot straight. I shot a large cow elk at 257 yards. Lots of help with the field dressing and loading of the animal. I recommend Elk Creek Family Outfitters highly.
Phill Garnett
Laurel, Montana
November, 2014
(Phill passed away October, 2016 and will be greatly missed)
Dear Dave,
I can't thank you enough for the fabulous experience that we had on both hunts that we've had on your ranch! Abe was so patient with me and my dad on the first hunt and he taught me so much about how to look for the signs and smells of tracking the elk. I really feel that our first hunt was critical to the success that we had today because I was aware and in tune with what to look for and what my task was going to be. Your ranch is vast and beautiful and I enjoyed every minute of our time with you and Abe.
Tonight was a hunt that I will never forget! To have my son with me on my first elk hunt was one of the biggest joys of my life. The perfect timing of where and when we encountered the herd of elk, and to have Nate and I both get our elk with in seconds and feet of each other, was a story that could not have been written by anyone. I have been reliving these precious moments over and over in my mind and I probably will for weeks to come.
I want you to know how much I appreciate all that you and Abe did for me and my family!
Hope you and your family have a very Happy Thanksgiving!
Sincerely,
Karen Long
Billings, Montana
November 2014
Dave,
Just a note to thank you for the great time we had on the 5 E ranch this past week. My daughter Lexi shot her first elk. Your patience and expertise in guiding and calling made it a very memorable experience for my daughter. The memories of the hunt will last her a lifetime. I appreciated the time that you took to explain things to her. We loved hearing about the history of the 5 E ranch and why it was named after the 5 Englishmen that settled and established the ranch. Staying in a restored historic cabin that the 5 Englishmen originally built was also very cool, You did a great job in restoring the cabin. You are a great guide, steward of the land and the wildlife!
Again thank you for the great hunt that you provided for my daughter and I, it was outstanding!
Troy Gilbertson
Minnesota, USA
November, 2016
Hi Dave,
I cannot thank you enough for introducing us to cow elk hunting. My daughters thoroughly enjoyed the ranch, hunt, guide (you) and the cabin. We are looking forward to a return trip. Thank you for your caring and thoughtful approach to our hunting adventure. Here are a couple of photos for you. The smiles say it all. Thanks for a first class experience.
God Bless You and Your Family
Bill, Anna & Becky Wilke
Minnesota, USA
November, 2016
Dave,
I wanted to thank you for the successful cow hunt this year. You made my day by guiding me to the right spot where I was able to take my first elk EVER! You are really an expert, not only in guiding, but also in calling the elk in to make my hunting experience a success. You have a keen ear and picked up on sounds that I never heard. You brought that cow elk to my lap, less than 50 yards away!
Your ranch is a majestic place where you're surrounded by peaceful, beautiful scenery. The cabin we stayed in has so much history and you and your family have done a tremendous job in restoring it. Thank you again for the experience and I wish you and your family the best of everything.
Jorge Gonzalez
Manhattan, Montana
October, 2016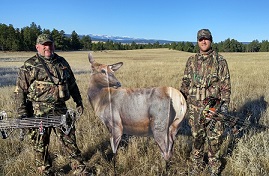 Once again, we both wanted to relay our most sincere thanks for a wonderful, memorable trip to the 5E Ranch! Those hours spent exploring that amazing piece of property are etched into both our minds forever! I cannot imagine a better storyline or ending for our first ever Elk Bow Hunt than the two bulls we managed to tag out on in a 16 hour period! I cannot wait until we draw again and have the opportunity to spend time with both of you at the 5E. Please relay our sincere thanks to Rosalie for her wonderful meals and conversation. It was truly a blessing and a pleasure to get to know you folks! Until the next time we meet……be well new friends of ours!
Jeff Foster Sr.
Maryland, USA
October 2017